Natural Sweeteners Market to Witness Unprecedented Growth in Coming Years
The global natural sweeteners market size is estimated to be valued at USD 2.8 billion in 2020 and projected to reach USD 3.8 billion by 2025, recording a CAGR of 6.1% during the forecast period.
The report "Natural Sweeteners Market by Type (Stevia, Sorbitol, Xylitol, Mannitol, Erythritol, Sweet Proteins, and Others), End-use Sector (Food & Beverage, Pharmaceutical, Direct Sales, and Others), Application, and Region – Global Forecast to 2025″, According to MarketsandMarkets, the global natural sweeteners market size is estimated to be valued at USD 2.8 billion in 2020 and is projected to reach USD 3.8 billion by 2025, recording a CAGR of 6.1% in terms of value. Natural sweeteners are gaining high importance and demand due to the increasing health concerns over the consumption of sugar and problems related to the safety of some non-nutritive artificial sweeteners. Natural sugars have wide application in the industries, including food processing, pharmaceuticals, personal care, and others, which in turn creating demand for the various natural sweeteners.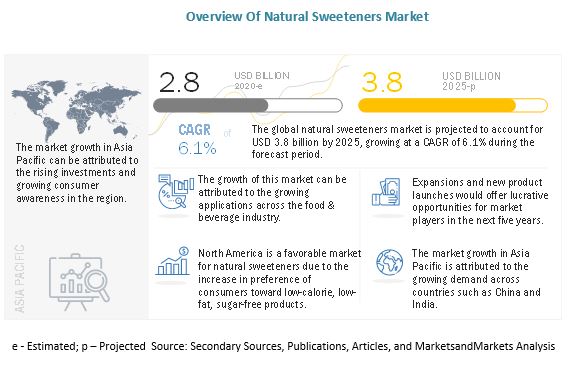 Opportunities: Rising R&D activities to develop and formulate newer and advanced natural sweetening products.
Researchers are coming with new ranges of natural sweetener products to meet the growing need of consumers for health-promoting products. For instance, monk fruit sweeteners are introduced by the major players in the food & beverage industry, owing to its numerous health benefits and higher safety levels. ADM provides three ranges of monk fruit sweeteners under the brand name SweetRight. ADM launched these monk fruit sweeteners in 2017 through its partnership with GLG Life Tech Corporation (Canada). Monk fruit sweetener is extracted from monk fruit. The monk fruit is also known as luo han guo or "Buddha fruit." Monk fruit sweeteners are 150-200 times sweeter than sugar and provide sweetness to food and beverage products without adding calories. Monk fruit sweeteners have numerous food and beverage applications, including juices, soft drinks, dairy products, candies, desserts, and condiments. Monk fruits are stable at high temperatures, owing to which they can be used in baked goods. The successful research and developments in the sweetener market for the production of safer and better products to cater to the increasing demand of consumers for safe, health-benefiting products would create a huge growth opportunity for the sweeteners market, and, in turn, for the natural sweeteners market, in the coming years.
Download PDF Brochure @ https://www.marketsandmarkets.com/pdfdownloadNew.asp?id=1071
By type, the stevia segment is projected to experience the fastest growth in the global market during the forecast period
The stevia segment is expected to experience the fastest growth in the global market, on the basis of type, in 2019. The sweet-tasting components of stevia are called steviol glycosides, which are naturally present in the stevia leaf. There are eleven major steviol glycosides present in stevia. These are the sweet components isolated and purified from the leaves of stevia. Out of these eleven steviol glycosides, stevioside and rebaudioside A are the most abundant steviol glycosides. China is one of the leading exporters of stevia products across the globe. Moreover, stevia sweeteners do not contribute carbohydrates or calories to the food and beverage it is added to. It also does not affect blood glucose or insulin response. Owing to this, people with diabetes can consume a wider variety of foods and comply with a healthy meal plan by substituting sugar with stevia. Also, stevia comprises several sterols and antioxidant compounds, including kaempferol. Kaempferol can reduce the risk of pancreatic cancer by 23%. Thus, with such widespread acceptability and availability of stevia, it is expected to substantially grow in the coming years as well.
By application, the beverage segment is projected to experience the fastest growth in the natural sweeteners market during the forecast period
The beverage segment accounted for a major share in the global market, in 2019, in terms of value. natural sweeteners are currently preferred in beverages, such as diet carbonated drinks, flavored water, and other beverages. Stevia is a key natural sweeteners used in beverages. It is a preferred natural sweeteners with reduced-calorie and zero glycemic indexes, which is used to produce numerous versions of energy drinks, soft drinks, ready-to-drink teas, flavored water, and fruit juices. Other natural sweeteners, such as erythritol and xylitol, are also preferred among key players in the beverage industry. Thus, the expansion of the consumer base for beverage products provides an incentive for developing new natural sweeteners and products, thereby driving the market growth during the forecast period.
The North American region dominated the natural sweeteners market with the largest share in 2019, whereas Asia Pacific is expected to witness the highest growth rate.
The North American market accounted for the largest share in 2019. The North American region is projected to dominate the global market due to factors, such as the busy lifestyle of consumers, prevalence of chronic diseases due to their hectic lifestyles, and an increase in awareness among consumers regarding the health benefits of reduced sugar foods & beverages and other products. In addition, the US has a large market for bakery, confectionery, convenience food, and packaged food products, and hence, it accounts for a major share in the market. Consumers in the US are calorie-conscious, due to which low-calorie and low-fat food products are popular in the country. The increase in the prevalence of obesity and cardiac diseases has led to a surge in demand for natural and low-calorie ingredient-based food products among consumers. According to the Centre for Disease Control & Prevention (CDC) and from the data provided by National Health and Nutrition Examination Survey, in the US, the prevalence of obesity was 39.8% and affected nearly 93.3 million of the adult population between 2015 and 2016. However, according to the same data, in 2017 and 2018, the prevalence of obesity increased to over 42.5% in the adult population. The rise in incidences of obesity, heart diseases, diabetes, and other health issues has le