Hop into Easter with Mangia Bakery's Delectable New Menu
Mangia Bakery's egg-citing new treats and baked goods, featuring fresh and innovative creations, are getting the Easter season off to a sweet start.
March 20, 2023 – New York, New York – Mangia Bakery, located in the heart of Manhattan since 1981, has announced its new Easter menu, which is available beginning Tuesday, March 7, 2023. Every item on the menu is carefully crafted on the premises by Mangia's expert bakers, ensuring the freshest flavors and highest quality. From intricately decorated cookies to mouth-watering chocolates, tasty cupcakes, tempting macaroons, and sumptuous cakes, this new menu is sure to satisfy even the most discerning sweet tooth.
Adding to the flavorful celebration, Mangia's bakers have partnered with Leonidas Master Chocolatier from Belgium to create an egg baked with assorted chocolate eggs that is not only delicious but also exquisitely Instagrammable.
Mangia Bakery's new Easter menu not only satisfies sweet cravings, but it also adds to the Easter festivities with a special collaboration. For the first time ever, Mangia has teamed up with Ortigia, a beloved brand from Sicily, to create a limited edition amaretto dolcetti tin box collection.
These scrumptious treats are made with Sicilian almonds, Sicilian orange zest, and orange blossoms from Siena, Italy, making them the perfect addition to any Easter celebration. Available in blue and pink colors, these indulgent goodies are sure to add a touch of elegance and sophistication to Easter festivities.
Mangia Bakery offers an array of appetizing delicacies that are perfect for gifting, snacking at home, or sharing in the office. Their new Easter menu features innovative and delicious options that are sure to delight. They invite everyone to come and sample the exquisite treats they have to offer.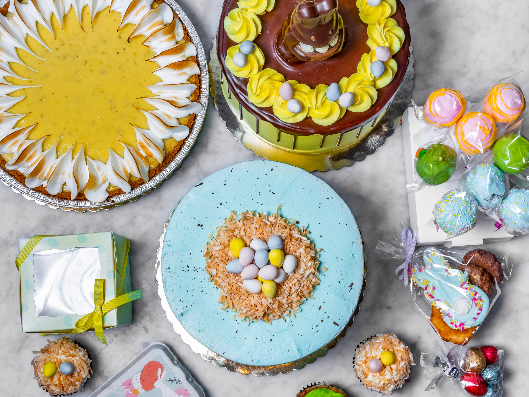 About Mangia NYC:
Mangia NYC is an iconic New York restaurant that has been serving farm-to-table fresh cuisine and yummy baked goods made on-site at Mangia Bakery for over 40 years. The legendary restaurant, an industry innovator, is known for its delicious food, environmentally conscious philosophy, and exceptional customer service, which encourages diners to "Live the Life You Love."
CONTACT: To learn more about Mangia NYC, the Mangia Bakery's Easter Menu, or to arrange an interview for an article, please contact us.
Website: https://mangia.nyc/
Address: 50 W 57th St, New York, NY 10019
Social Media:
https://www.instagram.com/mangia_nyc_official/
https://twitter.com/Mangia_NYC
https://www.facebook.com/MangiaNYC
https://www.pinterest.com/mangianyc/_created/
Media Contact
Company Name: Mangia NYC
Contact Person: Sasha Muniak, Founder
Email: Send Email
Phone: (212) 980-6363
Address:50 W 57th St
City: Manhattan
State: NEW YORK 10019
Country: United States
Website: https://mangia.nyc/